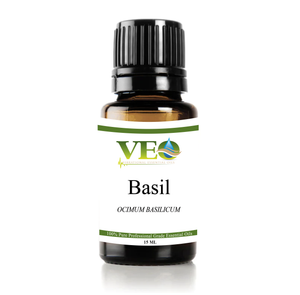 Basil Essential Oil has a fresh, spicy, sweet licorice-like scent with a slight balsamic smell. Basil is used commonly to help reduce feelings of anxiety and stress. When applied to the skin, Basil is known to soothe, refresh, and rehydrate. Add a few drops of Basil in the kitchen to meats and pastas for a fresh blast of flavor. A great oil to heal insect bites. Also referred to as Sweet Basil or Thai Basil.
Our Basil may also be added to various household cleaners and soaps. Start the day by diffusing Basil and enjoy a calming sense of mental clarity and well-being.
Blends well with: geranium, clary sage, bergamot, and citronella
Size: 15 ml
Common Uses:
Personal Care: Insect bites, insect repellant, gout, muscular aches, coughs, bronchitis, sinus, nausea, pms, cramps, colds, fever, flu
Moods: Stress, depression, fatigue, anxiety, migraine, insomnia
Directions for Use:
Add four to five drops of Basil into your favorite aromatic diffuser for mental clarity and stress relief
Apply a few drops to insect bite or wound for healing. Recommend diluting for any topical use
Add few drops to Italian dishes for fresh, sweet taste
Dilute one drop in 4 oz. of water for internal use
Cautions:
Possible skin irritant. Keep out of reach of children. If pregnant, consult physician before use. Avoid eye and inner ear contact.