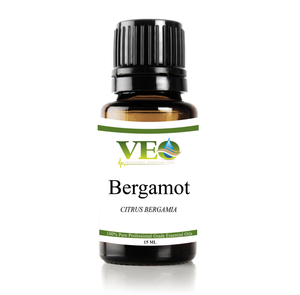 Bergamot Essential Oil has a sweet fruity scent with a hint of spice. Bergamot is part of the citrus family and requires a very controlled climate in order survive. Bergamot is used by most to reduce stress and purify skin. Sink a few drops of Bergamot into a diffuser and witness an uplifting but calming sensation.
Blends well with lavender, geranium, lemon, clary sage, frankincense, ylang yang and rosemary.
Size: 15 ml
Common Uses:
Skin Care: Acne, boils, eczema, cold sores, insect bites, wounds, psoriasis, oily skin
Respiratory System: Sore throat, mouth infections, tonsillitis
Immune System: Fevers, flu, colds, infections
Mood Help: Calming and uplifting feeling, depression, anxiety, stress relief
Directions for Use:
Add 4 to 5 drops of Bergamot into your favorite aromatic diffuser when stress levels are high
Apply a few drops to dry areas of sky to rejuvanate and rehydrate
Dilute oil in 4 oz. of liquid for internal use
Cautions:
Possible skin irritant. Keep out of reach of children. If pregnant, consult physician before use. Avoid eye and inner ear contact. Avoid sunlight and UV light for up to 12 hours after oil application to the skin.