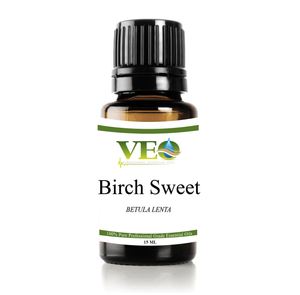 Birch Sweet Essential Oil has a sweet, sharp, wintergreen-like aroma. Coming steam distilled from the bark of a birch tree, Birch Sweet oil is commonly known for aiding in joint mobility and muscle pain relief. Birch Sweet also helps in relieving painful headaches and common respiratory issues. Birch Sweet can be used in skincare practices to help tone, tighten, and soften skin. Being an antiseptic, Birch Sweet will help protect against fungal and bacterial infections. 
Blends well with bergamot, chamomile, cedarwood, frankincense, lemon, mandarin, sandalwood and rosewood.
Size: 15 ml
Common Uses:
Personal Care: Skincare, muscle pain, joint pain, joint mobility, detox, respiratory infections, fungal and bacterial infections
Moods: Headaches (migraines), stress relief
Directions for Use:
Add 4 to 5 drops of Birch Sweet Essential Oil to your favorite aromatic diffuser to relieve throbbing headache pain
Must dilute Birch Sweet before use on skin or may cause irritation
After dilution apply a few droplets to skin, joint, or muscle area for soothing relief
Cautions:
Possible skin irritant. Do not use on children, during pregnancy, or while breastfeeding.