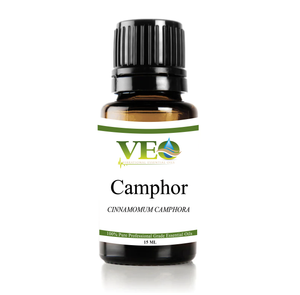 Camphor Essential Oil gives off a fresh peppery, leafy, medicinal aroma. Extracted from chipped wood, root stumps, and branches of the notorious "camphor tree", white camphor oil is an extremely powerful balancing oil. It sedates the nerves and uplifts apathy. It's most commonly known to help with nervousness and depression symptoms. Other major benefits of Camphor Oil is the anti-inflammatory properties. This oil may be used in repelling insects such as flies and moths. It also has a positive effect in colds and flu, infectious diseases, bronchitis, coughs, and can assist with muscular pains, rheumatism, sprains and arthritis.
Blends well with basil, chamomile, and lavender.
Size: 15 ml
Common Uses:
Personal Care: Insect repellant, cold and flu, infectious diseases, respiratory issues, cough, muscular pain, sprains, arthritis
Moods: Nervousness, depression, anxiety, sedates nerves, calms, uplifts apathy
Directions for Use:
Add 4 to 5 drops of Camphor (White) Oil to your favorite aromatic diffuser for a peppery, medicinal, leafy scent that will relax nervous tension and ease respiratory airways
Dilute and then apply few droplets of oil to an inflamed area or to treat acne, burns, or dry hands
Cautions:
Since Camphor Oil can be toxic, DO NOT use for aromatherapy massage. Pregnant women as well as people who suffer from epilepsy and asthma should not use this oil.