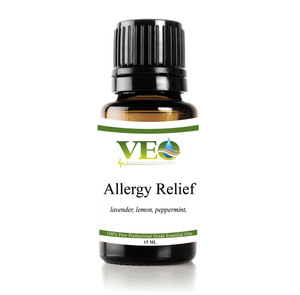 Peppermint, Lavender, Lemon
Allergy Relief Synergy is a proprietary blend of essential oils that is specifically selected based on properties that aid in the relief of allergy symptoms. Add a few drops to an aromatic diffuser during spring time when allergy season is in full effect to allow airways to open. This blend is 100% therapeutic grade that is a NEED in order to fight allergy season.
This unique blend may be inhaled directly, diffused, or applied topically. Make sure to mix with a few ounces of coconut carrier oil for any topical application.
Size: 15 ml
Common Uses:
Personal Care: Allergies, headaches, sneezing, coughing, runny nose, allows for deeper breathing
Moods: Stress relief, relaxing
Directions for Use:
Add 4 to 5 drops of Allergy essential oil blend to your favorite aromatic diffuser during heavy allergy season for deeper breathing and relaxation
Apply few drops to hands and inhale deeply to clear airways
Apply few drops directly to back of neck and under nose for to relieve running nose and coughing
Mix few drops with La Vie coconut carrier oil when using topically
Cautions:
Keep out of reach of children. Consult physician before use if nursing or pregnant. Possible skin sensitivity.