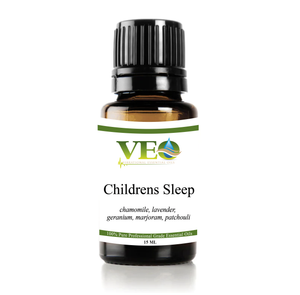 "Children's Sleep" synergy blend of essential oils specifically chosen for their sleep aid benefits. Sweet Dreams blend has a warm, woodsy aroma when diffused throughout a room. Sweet Dreams is most effective when diffused or applied topically with carrier oil before bedtime to encourage restful sleep.
This blend minimizes everyday stress and tension, allowing individuals to drift off peacefully. Sweet Dreams blend is 100% therapeutic grade.
Blend includes chamomile, lavender, geranium, marjoram and patchouli.
Size: 15 ml
Common Uses:
Moods: Encourages restful sleep, eases tension, minimizes stress
Directions for Use:
Add 4 to 5 drops of Sweet Dreams essential oil blend to your favorite aromatic diffuser before bedtime for a peaceful drift to sleep
Dilute few drops in coconut carrier oil and apply to temples, neck, and feet prior to bed for stress relieve
Cautions:
Keep out of reach of children under age of 2. Consult physician before use if nursing or pregnant. Make sure to dilute in carrier oil before topical application.