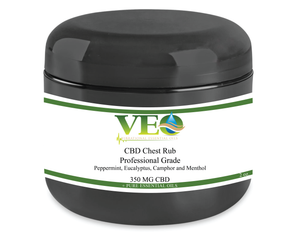 If you like Vicks products you will appreciate our CBD Chest Rub.  We use only natural ingredients.  Our base is Sweet almond oil and Beeswax.  We then blend 100% pure essential oils of Peppermint, Eucalyptus, Camphor and Menthol.
Rub on chest to help relieve tough congestion issues.  Use hand in hand with our CBD Congestion Rollerballs and our CBD Congestion Epsom Salts.
Save by ordering a dozen or ask about our bulk discount on 100 or more jars.