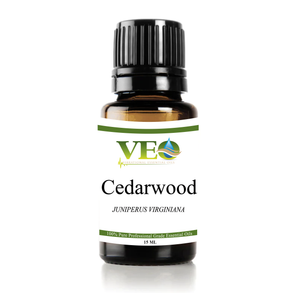 Cedarwood Essential Oil is known for its sweet, woody balsamic tone. When used aromatically or topically, Cedarwood gives a sense of gentle relaxation to the surrounding area. Cedarwood is also commonly used in massage therapy to bring relaxation to the mind and body. Note that cedarwood is a known natural insect repellant and when applied topically gives the skin a soothing effect.
Blends well with rosewood, bergamot, clary sage, rosemary, and ylang ylang.
Size: 10 ml
Common Uses:
Skin Care: Insect repellant, eczema, acne, dandruff, greasy skin, hair loss, skin ulcers, dermatitis, fungus
Respiratory: Coughs, congestion, bronchitis
Mood Help: Nervous tension, stress relief, relaxation
Directions for Use:
Add 4 to 5 drops of Cedarwood oil to your favorite aromatic diffuser
Apply 1 to 2 drops to desired area on skin. We recommend to dilute with a carrier oil before topical use
Cautions:
Avoid eye contact. Keep out of reach of children. Consult with physician before use if you are going through pregnancy. Beware of possible skin sensitivity.