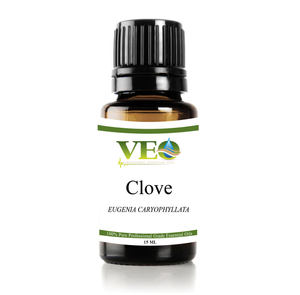 Clove Essential Oil has a sweet, spicy, fruity aroma. Clove is known for use in the fall and winter holidays because of its spicy, warm scent. Clove is a wonderful aromatic air freshener. This oil can also be used to soothe in a bath. When diluted with carrier oil, Clove can be applied topically for a pain relieving massage. Diffuse Clove in your home for an inviting, warm atmosphere.
Blends well with clary sage, ylang ylang, bergamot and rosewood.
15 ML
Common Uses:
Personal Care: Athlete's foot, bruises, burns, acne, toothache, wounds, arthritis, sprains, colic, nausea, colds, flu, infections, asthma
Directions for Use:
Add 4 to 5 drops of Clove Essential Oil to your favorite aromatic diffuser for spicy, warm, inviting scent during holidays or during a soak in the bath
Dilute eith carrier  oil before topically applying to areas of skin for pain relief or to help with flu symptoms
Cautions:
Keep out of reach of children. For external use only. Consult physician before use if pregnant or breastfeeding. Keep away from eye contact.