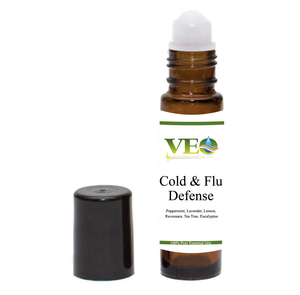 Cold & Flu Rollerball is a proprietary blend of essential oils that have been carefully selected for use in protection from cold and flu symptoms.  Cold & Flu Defense Rollerball is great to keep in the car or in your purse while on the go to fight off colds, headaches, sore throats, fevers, stomach aches, etc.
Blend includes peppermint, lavender, lemon, ravensara, tea tree and eucalyptus.
Size: 10 ml
Common Uses:
Personal Care: Colds, headaches, fevers, sore throats, runny nose, cough, stomach aches, any flu-like symptoms
Cautions:
Possible skin sensitivity. Keep out of reach of children. If pregnant, or under a doctor's care, consult your physician. Avoid contact with eyes, inner ears, and sensitive areas. Avoid sunlight or UV rays for up to 12 hours after applying product.