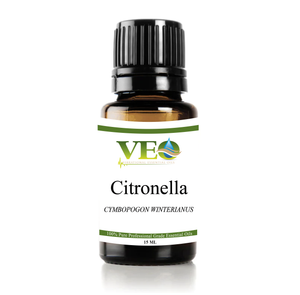 Citronella Essential Oil has a powerful lemon, woodsy scent. Citronella is most commonly used as an insect repellant. This oil may be used topically to get rid of insects and refresh oily skin. Citronella is used aromatically to freshen the air. Also known to relax and aid in relieving headache pain.
Blends well with orange, lemon, geranium, bergamot, cedarwood and pine.
Size: 15 ml
Common Uses:
Personal Care: Oily Skin, insect repellant, colds, flu
Moods: Headaches, migraines, and fatigue
Directions for Use:
Add 4 to 5 drops of Citronella Essential Oil to your favorite aromatic diffuser for refreshing medium lemony scent  
Apply a few drops to skin in desired area. Recommended to dilute in a carrier before topical use
Cautions:
Possible dermal irritant. Use carrier oil for topical use.