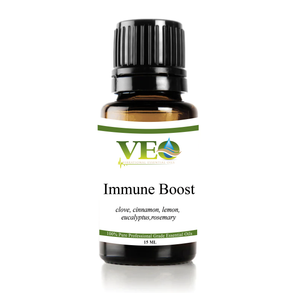 VEO Immune Boost a proprietary blend of essential oils carefully selected for benefits of boosting immune strength. Immune essential oil blend has a spicy, citrusy aroma when diffused. Use aromatically or topically to promote feelings of calm and comfort.
Add Immunity essential oil blend to DIY cleaning products to clean counters and bathroom sinks. 
Blend includes clove, cinnamon, lemon, eucalyptus and rosemary.
Size: 15 ml
Common Uses:
Cleaning: Add to DIY household cleansers, remove sticky surfaces from countertops and sinks
Moods: Calming, comfort, tension easing, stress relief
Directions for Use:
Add 4 to 5 drops of Immune boost essential oil blend to your favorite aromatic diffuser to boost immune strength, promote peace, and mental clarity
Dilute few drops in coconut carrier oil before topical use on desired skin areas
Add few drops to 4oz of water mist sprayer to freshen the air in room or car
Cautions:
Keep out of reach of children. Consult physician before use if nursing or pregnant. Avoid UV light for 12 hours after topical use.