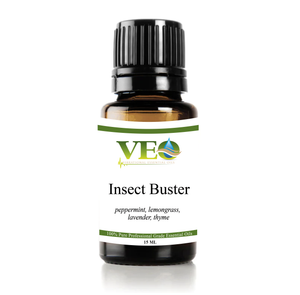 Insect Buster is a proprietary blend of essential oils specifically selected for assistance in keeping insects away. When applied, Insect Buster has a minty, floral scent. Insect Blaster is a necessity when going hiking or camping to keep those pesky insects from becoming bothersome. 

Apply Insect Blaster directly onto wrists, ankles, legs, feet, etc. before you begin your outdoor endeavor to ward off nagging flies, gnats, and mosquitoes. This blend is 100% therapeutic grade.

Blend includes peppermint, lemongrass, lavender and thyme.

Size: 15 ml

Common Uses:

Personal Care: Insect repellant

Directions for Use:

Apply Insect Blaster to wrists, ankles, feet, arms, and legs before a hike or day at the lake for protection against unwanted flies, gnats, or mosquitoes

Cautions:

Do not use on children under the age of 2. Consult with health professional before use if nursing or pregnant.