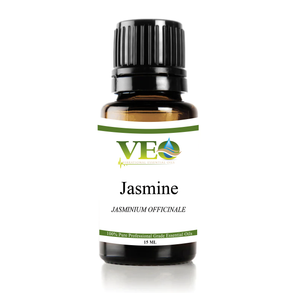 Jasmine Essential Oil has a rich, sultry scent that promotes an alluring and romantic feeling. Jasmine essential oil is extracted from the flowering jasmine plant. Jasmine oil is most commonly used in supporting healthy skin care. Add Jasmine to your favorite lotions or skin remedies to rehydrate, cleanse, and enhance your natural glow. Jasmine is one of the most precious and delicate essences.
Blends well with frankincense, sandalwood, lemongrass, geranium, rose and orange sweet.
Size: 15 ml
Common Uses:
Personal Care: Add to lotions, add to DIY hair masks or conditioners, use as perfume
Moods: Self confidence boosting, calming, stress relief, romance, relaxing
Directions for Use:
Add 4 to 5 drops of Jasmine essential oil to your favorite aromatic diffuser for a calm, romantic vibe throughout the room
Apply 2 to 4 drops directly to skin or add to lotion to massage onto skin
Add few drops to your conditioner or include in a DIY hair mask to moisturize and create healthy-looking hair
Add 5 to 10 drops to relaxing foot or bath soak after a long day of work
Cautions:
Keep out of reach of children. If pregnant, nursing, taking medication, or have a medical condition, consult a healthcare practioner prior to use.