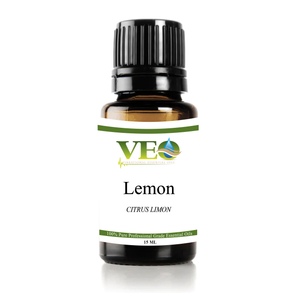 Lemon Essential Oil has a light, fresh, citrusy, fruity aroma. Lemon oil's vibrant, fruity scent makes it a great addition to perfumes, massage and bath oils, and DIY cleaners. Mix Lemon essential oil with a carrier oil and apply to oily skin. Use Lemon alone to clean sticky surfaces.
Blends well with bergamot, cinnamon bark, pink grapefruit, orange, geranium, eucalyptus, ylang ylang, lavender and most citrus oils.
15ml
Common Uses:
Personal Care: Insect repellant, mouth ulcers, acne, warts, arthritis, cellulitis, nosebleeds, asthma, bronchitis, colds, flu, infections, corns
Moods: Headaches, relaxation, stress relief, uplifting
Directions for Use:
Add 4 to 5 drops of Lemon essential oil to your favorite aromatic diffuser to uplift one's mood and spread positive energy throughout a room
Mix few drops a carrier oil before topical use such as relaxing tight muscles
Add few drops to DIY household cleaners for fresh lemony scent
Use Lemon by itself to clean sticky surfaces
Add few drops Lemon oil to mist spray bottle with 4 oz of water and spray throughout the house to freshen the air
Cautions:
Do not expose skin to sunlight or tanning bed for 12 hours after application. To extend shelf life keep in a cool dark place with cap tightly sealed. Can be kept in a refrigerator.