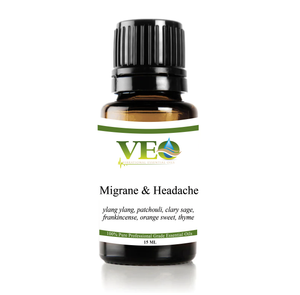 Our Migrane & Headache blend is a proprietary blend of essential oils which are selected based on pain relief properties. Has a fruity aroma and brings a cool, soothing sensation when applied to the skin. Wonderfully relaxing to run in diffuser after a long, stressful day of work. Apply the to your temples and back of your neck to unwind and relieve sharp pains. 
Migrane & Headache may also be applied to muscles and joints that have sharp pains.
100% therapeutic grade. 
Blend includes rosemary, eucalyptus, lemon, camphor, orange sweet and peppermint.
Size: 15 ml
Common Uses:
Personal Care: Painful headaches, joint aches, arthritis, sharp muscle pain
Moods: Pain and stress relief, tension easing, mind clarity, relaxing
Directions for Use:
Apply with carrier oil to desired skin areas where pain is occurring for a gentle, relaxing relief
Rub on temples and back of neck for migraines and headaches
Apply to sore joints and muscles after an intense sporting event or workout
Cautions:
Keep out of reach of children under the age of 2. Consult physician before use if pregnant or nursing. Possible skin sensitivity.