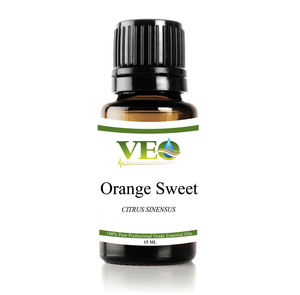 Orange Sweet Essential Oil has a sweet, rich, just-peeled citrus scent. Orange Sweet oil is used most often in skin care routines for dry, dehydrated, or oily skin. When diffused, Orange Sweet oil promotes a cheerful, happy, and optimistic vibe. Orange sweet oil may also be added to DIY natural cleansers.
Blends well with lavender, clary sage, lemon, cinnamon and clove.
Size: 15 ml
Common Uses:
Personal Care: Sleeplessness, bronchitis, chills, colds, flu, constipation, water retention
Moods: Stress Relief, uplifting, depression, anxiety, promote happiness and optimism
Directions for Use:
Add 4 to 5 drops of Orange Sweet essential oil to your favorite aromatic diffuser to add a cheerful, optimistic vibe to the room
Dilute few drops in skin care product before applying topically
Add few drops to DIY natural cleansers before use
Cautions:
Possible skin sensitization. To extend shelf life keep in a cool dark place with cap tightly sealed. Can keep in a refrigerator.