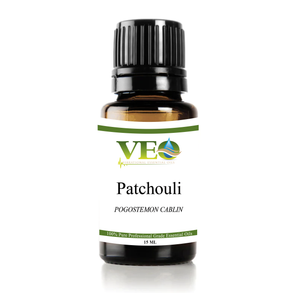 Patchouli Essential Oil is a dark amber oil with a rich, sweet, herby earthy scent. Patchouli is most commonly used in skincare routines and body butters to enhance hydration and moisturize. Patchouli is known to naturally darken in color as it ages. Patchouli oil also works well as a natural deodorant. When diffused or inhaled, Patchouli gives off a relaxing earthy tone that is perfect for meditation or before bedtime.
Blends well with geranium, cedarwood, lavender, clove, bergamot and clary sage.
Size: 15 mL
Common Uses:
Personal Care: Athlete's foot, acne, dandruff, dermatitis, impetigo, insect repellant, wrinkles, wounds, fungal infections, cracked and chapped skin
Moods: Nervousness, sleeplessness, stress relief, depression, anxiety, sensuality and aphrodisiac
Directions for Use:
Add 4 to 5 drops of Patchouli essential oil to your favorite aromatic diffuser for an relaxing, earthy, herbaceous scent before bedtime or during meditation
Add a few drops to body butters or moisturizers for more hydration in your skincare routines
 dilute in a carrier oil before topical use for athlete's foot, chapped skin, etc.
Cautions:
Non-toxic, non-irritating, and non-sensitizing.