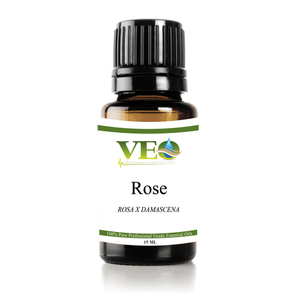 Rose Essential Oil, coming from one of the most significant flowers in world, has a rich, beautiful, refreshing scent. Rose is distilled to release the popular flower's oil through steam. Rose essential oil is most commonly used topically to enhance spiritual and relaxation techniques. When diffused, Rose creates an inspiring atmosphere that also encourages positivity and uplifts when inhaled. Rose oil has been used for years and can be found in several skin care products. Size: 15 ml
Common Uses:
Personal Care: Skin care, moisturizer, add few drops to facial cream, add to shampoo or conditioner
Moods: Uplifting, promotes positivity and self-reflection, meditation, elevated experiences, depression, anxiety
Directions for Use:
Add 4 to 5 drops of Rose essential oil to your favorite aromatic diffuser for a rich, uplifting vibe throughout the room
Apply few drops to area of skin to soothe and refresh
Apply few drops to favorite facial cream to moisturize
Mix with vegetable oil for massage therapy
Add few drops to shampoo or conditioner for added moisturizer
Cautions:
Keep out of reach of children. Keep away from eyes and mucous membranes. Consult physician before use if nursing or pregnant.