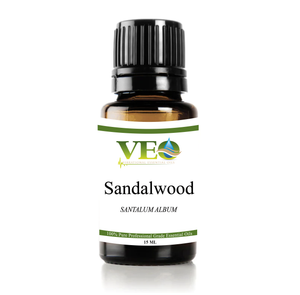 Sandalwood Essential Oil has an earthy, woody, balsamic fragrance. Indian Sandalwood is commonly used to enhance meditation, creating a very relaxing environment. When diffused, Indian Sandalwood uplifts the mood while also helping drive away fear and anxiety. Sprinkle a few drops of Indian Sandalwood into aftershave or moisturizer to help hydrate skin. Sandalwood essential oil is also very popularly used before bedtime to help with restless sleeping.
Blends well with bergamot, jasmine, lemon, orange sweet, mandarin, rose and rosewood.
Size: 15 ml
Common Uses:
Personal Care: Add to aftershave or moisturizer, hydrate skin, skin care
Moods: Meditation, restless sleeping, calming, drives away fear and tension, promotes happiness
Directions for Use:
Add 4 to 5 drops of Indian Sandalwood essential oil to your favorite aromatic diffuser for a woody, balsamic aroma to enhance meditation or promote a calming room environment
Add few drops to a carrier oil and massage on upper chest and back of neck before bed to help with restless sleeping
Indian Sandalwood is great to add to a massage oil for a relaxing late night massage
Cautions:
Possible skin irritant. Dilute in carrier oil for topical application.