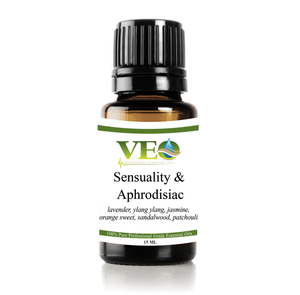 Sensuality Essential Oil is a proprietary blend of essential oils hand picked for properties enhancing love, self-acceptance, and forgiveness. Our Sensuality Essential Oil blend has a calming, soothing, fruity aroma. This blend helps promote feelings of positivity and focus. Diffuse Sensuality to bring energy and set a romantic mood for the evening.
When applied topically, rub Sensuality on the temples and back of neck to overcome fear and experience a calming sensation. This blend is 100% therapeutic grade.
Blend includes lavender, ylang ylang, jasmine, orange sweet, sandalwood and patchouli.
Size: 15 ml
Common Uses:
Moods: Romance, love, self-acceptance, positivity, confidence, forgiveness
Directions for Use:
Add 4 or 5 drops of Sensuality essential oil blend to your favorite aromatic diffuser to enhance a calming, romantic evening
Dilute a few drops in coconut carrier oil and apply topically to forehead, wrists, and back of neck for a warm, soothing sensation
Cautions:
Keep out of reach of children. Consult with physician before use if nursing or pregnant. Mix with carrier oil before topical use.