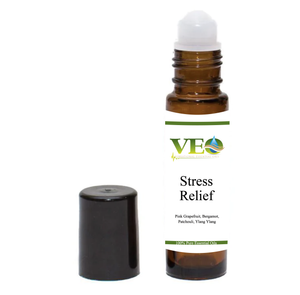 Stress Relief Roll-On is a proprietary blend of essential oils carefully selected for their stress relief benefits. Our Stress Roll-On has a citrusy, fruity scent when applied to the skin. Stress Roll-On is most effective when applied directly to the back of the neck, temples, wrists, and feet.
When applied, Stress Roll-On calms and reduces built up tension that commonly causes headache pain. It's a perfect roller to keep in a handbag, car, kitchen, or bathroom in case of high-stress situations. Stress Roll-On uses rollerball application technology and is 100% therapeutic grade.
Blend includes pink grapefruit, bergamot, patchouli and ylang ylang.
Size: 10 ml
Common Uses:
Personal Care: Headache relief, neck tension relief, aches, lymph node stress
Modes: Stress, relaxing, calming, positivity
Directions for Use:
Apply Stress Roll-On to desired areas on skin to help ease tension and bring relaxation
Rub rollerball applicator onto temples or back of neck for headache pain relief
Apply to tight muscles or lymph nodes for soothing sensation
Cautions:
Keep out of reach of children under age of 2. Consult physician before use if pregnant or nursing. Possible skin sensitivity.