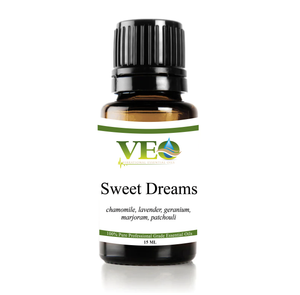 Sweet Dreams is a proprietary blend of essential oils that have been carefully selected for their benefits involving restful sleep. Sweet Dreams has a warm, floral scent when applied to the skin. Sweet Dreams Roll-On is most effective when applied directly to the temples, neck, chest, wrists, and feet before bedtime.
Sweet Dreams eliminates everyday stress and tension, allowing the user to fall asleep peacefully.
Blend includes chamomile, lavender, geranium, marjoram and patchouli.
Size: 15 ml
Common Uses:
Moods: Promotes restful sleep, eliminates stress, eases tension, peace, positivity energy
Directions for Use:
Apply Sweet Dreams to temples, neck, chest, and feet before bedtime to minimize stress and encourage restful sleep
4-5 drops in a diffuser
Cautions:
May use on children over age of 2. Consult with physician before use if nursing or pregnant. Possible skin sensitivity.