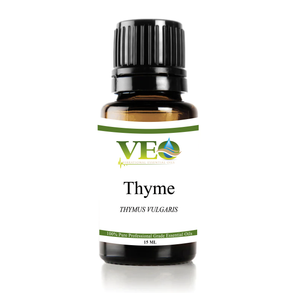 Thyme Essential Oil has a strong, fresh, minty aroma. When diffused, Thyme Essential Oil promotes mental clarity, courage, and focus. Add a few drops of Thyme to DIY household cleaning products or distilled water to eliminate dirt and grime. Thyme oil can also be used as a natural insect repellant.
Make sure to dilute Thyme in a carrier oil before topical use because it is considered a hot oil.
Blends well with basil, cinnamon bark, clove, eucalyptus, lavender, oregano and rosemary.
15ml
Common Uses:
Cleaning: Add to DIY cleaning products to remove grime and dirt from surfaces
Moods: Promotes focus, confidence, clears the mind, stress relief, eliminates tension
Directions for Use:
Add 4 to 5 drops of Thyme essential oil to your favorite aromatic diffuser to help clear the mind and encourage confidence and inspiration throughout a room
Dilute few drops in a carrier oil and apply to back of neck, wrists, or chest
Add few drops to DIY cleaning sprayers to clean dirty, grimy surfaces in the kitchen and bathroom 
Cautions:
Possible dermal irritant. Apply with a carrier oil for topical application.