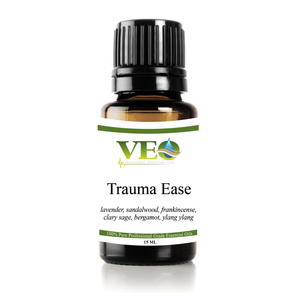 Trama Ease Essential Oil is a proprietary blend of essential oils carefully selected for their benefits in meditation practices. Trama Ease Essential Oil has a bright, fresh scent that helps calm and bring peace throughout a meditation space. 
Apply a couple drops to the hands and deeply inhale before or during meditation to put the mind at ease. We recommend diluting a few drops in a carrier oil if applying to sensitive skin. This product is 100% therapeutic grade.
Blend includes 
Size: 15 ml
Common Uses:
Moods: Meditation spaces, calming, relaxing, peaceful, stress relief, mind clarity, open respiratory airways
Directions for Use:
Add 4 to 5 drops of Trama Ease essential oil to your favorite aromatic diffuser in a meditation space, in a room, or car to promote a calming, peaceful energy
Apply few drops to palms of hands and deeply inhale to clear respiratory airways and clear the mind of negative thoughts
Mix few drops in coconut carrier oil for most topical applications
Rub a couple drops on temples and back of neck for soothing, cooling effect
Add a few droplets to a warm, relaxing bath soak for a spa-like experience
Cautions:
Keep out of reach of children under 2. Consult physician before use if pregnant or nursing. Possible skin sensitivity.