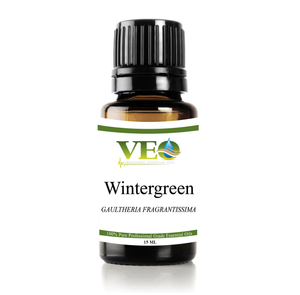 Wintergreen Essential Oil has a sharp, sweet, woody, and slightly minty aroma. Wintergeen Essential Oil is most commonly used in relaxing stiff joints and muscles. When applied topically, Wintergreen creates a cooling, calming sensation. When diffused aromatically, Wintergreen can assist in relaxation and uplift one's mood.
Blends well with basil, cypress, peppermint, pine, rosemary, sandalwood and thyme.
Size: 15 ml
Common Uses:
Personal Care: Joint aches and pains, arthritis, sore muscles
Moods: Stress relief, relaxing, mind clarity, uplifting, energizing
Directions for Use:
Add 4 to 5 drops of Wintergreen essential oil to your favorite aromatic diffuser for relaxation or uplifting effects throughout a room
Dilute few drops in a carrier oil before topical use in relieving pain from joints and muscles
Add few drops to distilled water sprayer to freshen the air with a minty fragrance
Add few drops to a massage oil and feel a nice cooling sensation on the skin
Cautions:
Do not use while pregnant, breastfeeding or on children. Not to be used people with a salicylate sensitivity. Use for aromatic and topical application only. Use in small amounts due to the methyl salicylate.